Knowledge category:
Webinars, e-learning and videos
EU Green Week Webinar on Circular Systemic Solutions for Regions and Cities in Action
Updated on 16.03.2023
EU Green Week is an annual opportunity to debate European environmental policy with policymakers, leading environmentalists and stakeholders from Europe and beyond. The 2022 edition focused on the European Green Deal ‒ the EU's sustainable and transformative growth strategy for a resource-efficient and climate-neutral Europe by 2050. 
 
As part of EU Green Week, the CCRI Coordination and Support Office organised a partner event on 1 June, entitled 'Circular systemic solutions for regions and cities in action', introducing the Initiative.   
Organiser:
Circular Cities and Regions Initiative Coordination and Support Office 
Contact:
helpdesk@circular-cities-and-regions.eu
Date:
01.06.2022 - 10:00 AM
Start and end date:
30.05.2022 - 05.06.2022
Image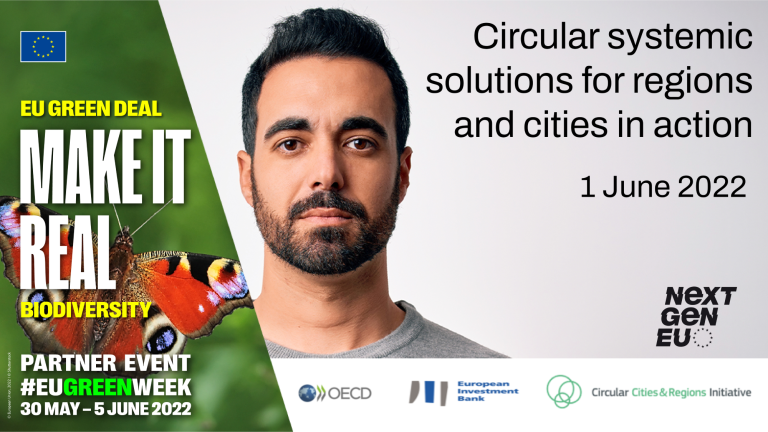 Relevance for Circular Systemic Solutions
In the CCRI's partner event, the Organisation for Economic Co-operation and Development presented its programme on the circular economy, which supports cities and regions to improve circular economy governance and monitor its improvement.  
 
The European Investment Bank then presented its Circular City Centre, which provides advisory support on circular economy investments to beginner and advanced circular cities, further supported by the Circular Economy Technical Assistance Facility.