Leading the circular economy transition in Europe's cities and regions
The Circular Cities and Regions Initiative (CCRI), together with Europe's cities and regions, is leading the way towards a more sustainable, circular future in Europe.  
Key to this process are the CCRI stakeholders, which include Pilots, Fellows, Associated Partners, and CCRI Projects. Their experiences and learning processes feed into the CCRI knowledge base – for which this website provides a central hub.
CCRI Pilots and Fellows
In April 2022, the CCRI launched a call for expression of interest for European cities, regions and territorial clusters to become CCRI Pilots and Fellows. 
After over 100 applications, we have selected a total of 12 CCRI Pilots and 25 Fellows. These stakeholders are now working closely with the CCRI Coordination and Support Office (CCRI-CSO) and each other to drive the rapidly growing European community of practice in this area, thereby leading Europe's circular economy transition. 
As shown in the map below, the selected cities, regions and territorial clusters cover 18 countries, with 13 participants in Western Europe, 11 in Northern Europe, 9 in Southern Europe, and 4 in Eastern & Central Europe: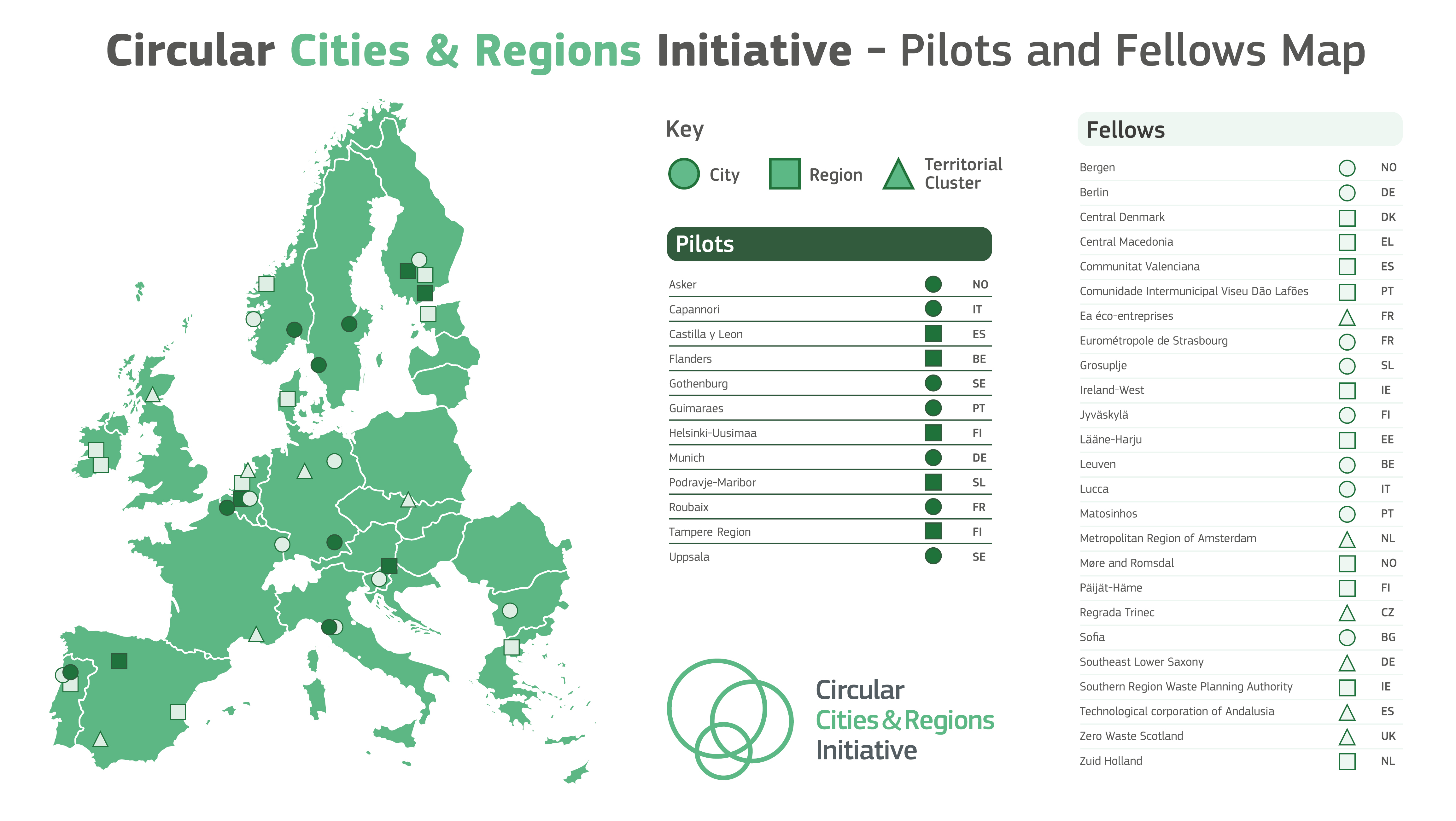 You may also download the full list of Pilots and Fellows here.
By participating as a Pilot in the CCRI, these cities and regions are showcasing the high circularity potential of their front-running ecosystems. They benefit from tailored support from the circular economy experts of the CCRI-CSO for the implementation of their Circular Systemic Solutions.
Read more about the Pilots in their profiles.
The CCRI Fellows, meanwhile, are cities, regions and territorial clusters at different levels of implementation of the circular economy transition, but with a strong interest in sharing and expanding their knowledge. They benefit from dedicated capacity-building and peer-learning activities, including thematic working groups and webinars.
Read more about the Fellows in their profiles.
Both the Pilots and Fellows also benefit from:
greater collaboration opportunities with the CCRI community;
first-hand information on relevant knowledge, tools and events;
increased visibility for commitments and actions through the CCR channels.
Associated Partners
The CCRI's Associated Partners include initiatives implemented, supported or managed by the European Commission (or other EU institutions) and organisations, foundations or other institutions implementing projects, services and initiatives.
Their activities are relevant for the implementation of the CCRI's activities, complementing the role of the CCRI-CSO and bringing added value to the CCRI scheme by providing valuable input about circular economy that can be transferred to Pilots and Fellows.
The CCRI-CSO cooperates with the Associated Partners in communicating and spreading relevant knowledge for circular cities and regions. Together, they foster synergies between organisations and various initiatives. The Associated Partners also provide additional networking channels for the initiative.
Read more about the CCRI's Associated Partners in their profiles.
CCRI Projects
CCRI Projects are research and innovation projects, funded by Horizon 2020 and Horizon Europe, which are generating innovative knowledge, creating specific skills and demonstrating systemic solutions.
The CCRI Projects boost knowledge sharing, link the CCRI to relevant initiatives and stakeholders, and contribute to supporting cities and regions to implement their Circular Systemic Solutions by testing circular business and governance models.
More specifically, CCRI Projects include demonstration projects, which support the demonstration and deployment of innovative Circular Systemic Solutions at local and regional level, and project development assistance services, which provide project promoters with the technical, economic and legal expertise needed for developing circular economy investments. They also include cross-cutting projects that focus on broader themes, such as governance models.
CCRI Projects can contribute to Pilots and Fellows' Circular Systemic Solutions in different ways, for instance by sharing analyses of their research results and demonstrated solutions, as well as through project development assistance and dissemination of relevant knowledge in this policy area.
Read more about the CCRI Projects in their profiles.