Organisational change for circular procurement - 3rd Online Workshop of the BRINC Network of Public Authorities
29.11.2023, 10:30AM - 12:00PM Europe/Brussels
While procurement can be an accelerator for circular economy in organisations, scaling up the positive outcomes of successful pilots can be difficult, due to specific internal agreements, culture and values (organisational attitude).

This third training session of the BRINC Network of Public Authorities will provide suggestions and advice on how to change and evolve governance structures (mindset, attitude, culture), to support the implementation of circular economy within your organization. 

Our speakers: Joan Prummel, Dutch Infrastructure and Water Ministry; Emma Borjesson, City of Malmö; Gianluca Cocco, Sardinia Region; Fabio Iannone, GREENER project.
 
Event format:
Virtual live
Organiser:
ACR+ in the context of the BRINC project
More information
This workshop is organized in the framework of the EU funded project BRINC and is a third of a series of trainings on public procurement for public authorities.

BRINC - Brokering cross-border innovation through clusters project brings together Public Authorities (PAs), who are looking for circular solutions, with companies. In this way, the PAs gain knowledge about which products and solutions the companies can offer, and/or the insight that their needs can be met in ways that they were previously unaware of.

The BRINC project is co-funded by the European Union's COSME program (Competitiveness of SMEs).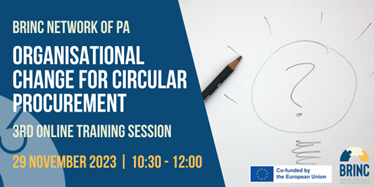 Event category
Third-party events